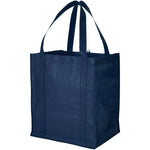 Liberty bottom board non-woven tote bag 29l
Prices from:
Product SKU #11941300 Digital transfer fixed-back-DTR02-full color
The Liberty tote bag is non-woven and has a supportive bottom board, making it a versatile and solid tote bag. The large main compartment provides enough space to store various items, and the 25.4 cm long handles make this bag easy to carry. Besides all this, the large printing areas are ideal for maximum visibility of any logo. Resistance up to 12 kg weight.
Read more
Read more about the Liberty bottom board non-woven tote bag 29L product
In-House Production Facility
Guaranteed Deliverability
Quantities & Pricing: (per unit)