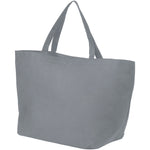 Maryville non-woven shopping tote bag 28l
Prices from:
Product SKU #12009100 Digital transfer fixed-front-DTR03-full color
The Maryville tote bag is a good alternative to the single-use plastic bag. It leaves enough space for printing logos or texts, and the non-woven fabric makes the tote bag solid for a wide range of uses. The handles are 18 cm, which means that the tote bag can be easily carried by hand or over the shoulder. Furthermore, the large main compartment makes it easy to store multiple items. In short: the ideal bag for shopping or a day at the beach or park. Resistance up to 12 kg weight.
Read more
Read more about the Maryville non-woven shopping tote bag 28L product
In-House Production Facility
Guaranteed Deliverability
Quantities & Pricing: (per unit)