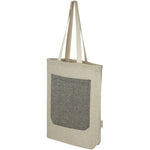 Pheebs 150 g/m² recycled cotton tote bag with front pocket 9l
Prices from:
Product SKU #12064306 Screenprint-front-MR00-1
The Pheebs 150 g/m² cotton tote bag is made from eco-friendly, pre-consumer recycled cotton. It features 27 cm durable cotton webbing handles, an open main compartment and a front slash pocket. Resistance up to 10 kg weight.
Read more
Read more about the Pheebs 150 g/m² recycled cotton tote bag with front pocket 9L product
In-House Production Facility
Guaranteed Deliverability
Quantities & Pricing: (per unit)