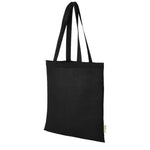 Orissa 140 g/m² gots organic cotton tote bag 7l
Prices from:
Product SKU #12061101 Embroidery-back-EMB001-Area 180
Sustainable tote bag with a large open main compartment, providing plenty of space to carry around all the essentials. The 32 cm long handles makes it comfortable and easy to carry around with you wherever you go. This tote bag is made in India with GOTS certified 140 g/m² organic cotton and is OEKO-Tex certified. Resistance up to 5 kg weight.
Read more
Read more about the Orissa 140 g/m² GOTS organic cotton tote bag 7L product
In-House Production Facility
Guaranteed Deliverability
Quantities & Pricing: (per unit)